12 Days Away!
If you have even a little bit of my excitement, you're probably bouncing off the walls. Although I'm very excited about attending SHRM17, the closer we get, the more I realize I have to successfully pack for this trip.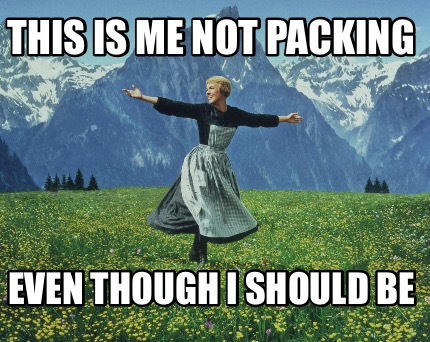 I've read all of the articles, blogs, and conference community recommendations on what to wear for the conference. I've ordered everything that I need, walked around in my shoes so I'm not breaking them in during the conference, but still nothing has went in the suitcase.
I'm always excited to pack for a coming trip, but something about SHRM17 is making me hesitant. Lets be real, we are going to NOLA and even though I'm from the South, it's definitely a different type of heat.
While at SHRM17 you may see my sister, Stephanie, and I recreating this, please do not be alarmed ….. I will be Batman
Throwing random things in a suitcase, won't work for me this go around. So I'm going to break it down and figure out everything that I know I must have for the conference. It's time to do what HR Pros do best, make a handy list!
Of course we know the list needs to includes toiletries, comfy shoes, jackets, clothes, don't get me wrong it's going to be hot, but not THAT hot! So what about those last minute things most people always forget at a conference?
Elevator Speech – Introducing yourself is going to be a quick process, so make sure you know what you're going to say.
Business Cards – I know this is the new age of technology, but I think business cards are the best way to remember exactly why you want to talk to this person.
Stories – I think HR stories are some of the best ways to connect to other HR pro's, it's always a battle of whose seen the craziest things.
Chargers – Laptops, tablets, phones, and all those things in between. Make sure you pack your rechargeable devices.
Your Best Attitude! – this one is really self explanatory, you're coming to a conference with a LOT of people. SHRM is making a lot of things easy by giving out information and maps, but you're still going to have to wait sometimes. This is already a crowded city, make sure you remember that everyone is trying to have a great time, just like you.
June 18th will be here before we know it. Packing in advance if possible, putting everything in its place, will make it a lot easier to be like our employees, and run out of the office doors on Friday June 16th at 5:00 p.m., while telling our boss to deal with it …. Ok maybe I'm exaggerating a little, but I hope you get the point.
#SHRM17 is coming up fast … Are You Ready to Go All In?
Until next time …