Lately, I've found myself saying the word busy a lot in conversations with others. I'll go out with my friends and tell them how busy I am at work. I tell my boss I'm so busy the filing couldn't get done today. When companies calling trying to sell me something, I'll tell them I'm too busy for the month.  Being "busy" seems to be a way to let people know you're working, without telling them what you're actually working on.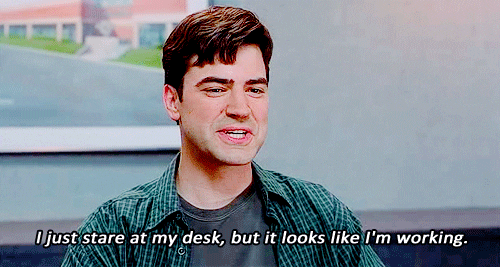 However, I also find myself being very idle in certain moments of the day. I have a to-do list a mile long that ranges from completing that filing – can you tell it's my least favorite part of the job? – starting a new blog post, doing homework, or studying for the SHRM-CP, but I feel like I'm not actually completing anything.
As an #HRNewbie there is so much to learn that I sometimes feel very stagnant in my role.  I'm unsure if I'm doing enough or I'm worried that I'm not taking the time to truly understand a lesson that's in front of me. What's even worse, I'm not exactly sure how I arrived at this space.
#HR – are we busy making productive changes or just busy looking busy?
Think about that questions this way, are we spinning our company in circles trying to push a new policy, agenda, or system onto them? Or are we too busy looking busy, that we are holding the company back from advancing? What is the perfect balance?
HR tends to be the go to department to blame when nothing is happening, we aren't pushing out the right type of product, customer service, or training to take our employees to the next level. Or we're taking them too fast on the business side and need to hold back and spend more time on operations.
We went from talking saying "oh HR needs to ask for a seat at the table" to "oh HR is changing" but what is actually happening? Are we too busy being idle in our current position of business? Of our careers? Our lives?
Young Professionals – what are you doing to create change or break into the HR world?
#HR, are you busy or are you idle, what's your answer?
Until Next Time …
Part 4 of the Dear Applicant Mini Series Coming Soon!