Have you ever had one of those days when you're never not busy? Everyone has a need or want that must be met asap? The day is getting shorter, but your to-do list is getting longer? Ha, who am I kidding, we're HR Pros, that's every day.
I've had one of those days this entire week.
I knew HR was for me once I was exposed to the profession a few years ago at my previous job. As an assistant manager, I was dealing with an employee/manager situation that I had to report to the HR department. Now that company headquarters was in a different state, so we did everything by phone. If the HR department came to the store, we knew someone would be fired immediately and it had to be a heavy offense for them to come instead of just having our District Manager fire the employee.
We were having a conversation and the way HR lady was very attentive to every part of the problem, the concern she had for the employee in the situation, I decided I wanted to learn more about her job. I had already been in college for about 3 years at this point, majoring in general business with no idea what I really wanted to do, but this one conversation changed my life.
Do you remember when you decided HR was where you belong? Some people were forced into the position, and nothing is wrong with that, but there some #HR pros that really knew HR was for them, even when it wasn't actually called Human Resources. Whenever I'm having a day like today, I tend to think about that conversation. I think about my team members that I've helped, the better work environment created, the HR newbies that I tend to sometimes help try and get their foot in the door … I keep swimming.
HR isn't always easy, we get blamed for a lot of the bad, we have difficult decisions to make every day, and personally, for me this week has been a whirlwind, but I've enjoyed every minute. I'm doing what I love.
I've had a rough week, fallen behind on blog post, haven't gotten a lot of sleep, made an over night trip out of state, lost paperwork, personally it's been emotionally and physically draining. My mood hasn't been this low in a very long time. As HR pros there is a lot we are responsible for everyday, and the first responsibility is to ourselves. So I wrote all of that just to say, today is #FF on Twitter, make sure you take the day to check-in with your #HRTribe, connect with people, go out and do something fun for yourself, spend time with your family, do things that help you get the stress of others off your back, enjoy life. This Friday, I'm changing my mood and looking forward to the weekend!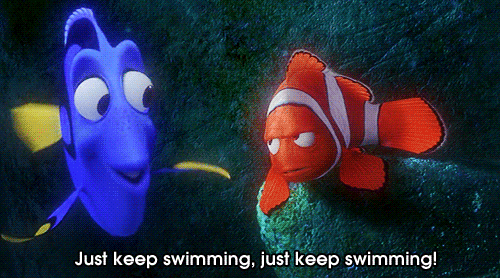 Until Next Time …